Backpacking
June 2019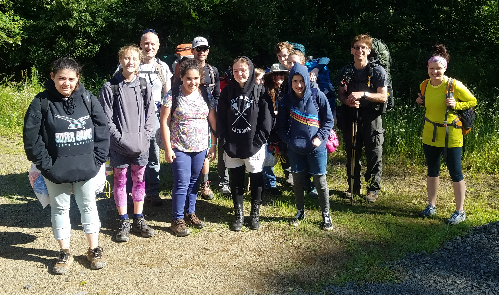 In June 2019, the Youth Group went on a 2-day/overnight backpacking trip on the Appalachian Trail (AT), camping overnight in tents near an AT shelter. Along the trail we needed to filter water, prepare our own meals on a backpacking stove, and work as a team to help encourage and support one another. Day 1 was 10 miles of hiking, and Day 2 was 7 miles of hiking.
On the trail we had some beautiful views of God's creation, as well as getting to see some of God's creatures, including a rattle snake. We began the morning of Day 2 with an outdoor worship service.
We hope you enjoy the pictures found on this page.
Photo Gallery from On the Trail
After two long days of hiking, we took in the view of where we just were from the Cabela's parking lot in Hamburg, and dinner at the Cracker Barrell, where there was indoor plumbing, chairs, and tables - luxuries we are now less likely to take for granted.
Photo Gallery After the Trail