In Loving Memory of
William G. "Bill" Lutz
November 21, 1921 -- February 2, 2017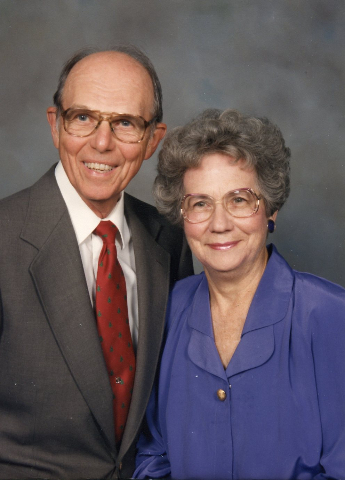 Our brother in faith, William George "Bill" Lutz, 95, a member and ordained deacon and elder of St. Paul's United Church of Christ, formerly of Robesonia passed away on Thursday, February 2, 2017 at Phoebe Berks Health Care Center in Wernersville.
His wife, Kathryn L. Lutz died in 1997. They were married in 1943.
Born in Charming Forge on November 19, 1921, a son of the late William Isaac Lutz and the late Elvie Cora (Zerbe) Lutz.
Bill was a 1939 graduate of Robesonia High School and a graduate of Wyomissing Polytechnic Institute earning a degree in Mechanical Engineering.
Bill served in the U.S. Navy from 1944 to 1946.
He was employed over 42 years at Textile Machine Works and Rockwell International, retiring in February 1982. He also owned a Christmas tree farm in Bernville for 40 years.
He was a member of St. Paul's UCC in Robesonia where he was a member of the choir for over 70 years, had served as lector, Sunday school teacher, and Sunday School Superintendent for many years, and was an ordained deacon and ordained elder.
He was a life member of the Penn State Alumni Association, a member of the Tulpehocken Settlement Historical Society, and the Robesonia Fire Company.
He is survived by a daughter, Beverly K., wife of the Rev. Larry Grunden, of Miamisburg, OH; a son, Sherwood S. "Woody" Lutz, of Canonsburg, PA; a brother, the Rev. Herman Lutz, of Wernersville; 6 grandchildren: Peter Muthard, Emily Stelzer, John Thomas Fahnestock, Gregory Lutz, Matthew Lutz, and Samantha Lutz; and 13 great grandchildren.
Services will be held on Monday, February 6, 2017 at 1:30 PM at Phoebe Berks Village Chapel, Wernersville, with the Rev. Dr. Benjamin Motz (Pastor of St. Paul's UCC in Robesonia) and the Rev. Leah Knox (Chaplain of Phoebe Berks) officiating.
Friends are invited to call on Monday from 12:30 to 1:30 PM at Phoebe Berks Village Chapel.
Interment will follow at Christ Little Tulpehocken Cemetery, Jefferson Twp.
Lamm & Witman Funeral Home, Inc., Wernersville is handling arrangements.
In lieu of flowers, memorial contributions may be made to Phoebe Berks Village, 1 Reading Drive, Wernersville, PA 19565.
Online condolences may be made at www.lammandwitman.com.
Dates & Times:

Visitation: Monday, February 6 from 12:30pm-1:30pm,
at Phoebe Berks Village Chapel, Wernersville
Funeral Service: Monday, February 6 at 1:30pm,
at Phoebe Berks Village Chapel, Wernersville
Internment: Monday, February 6 following the funeral service,
at Christ (Little Tulpehocken) Reformed Church Cemetery of the UCC,
Jefferson Twp., Berks Co., PA
Prayers of Remembrance: Sunday, February 12 during the 10:25am Worship Serivce,
at St. Paul's UCC, Robesonia