In Loving Memory of
Russell Mark "Russ" Miller
March 16, 1965 -- August 6, 2020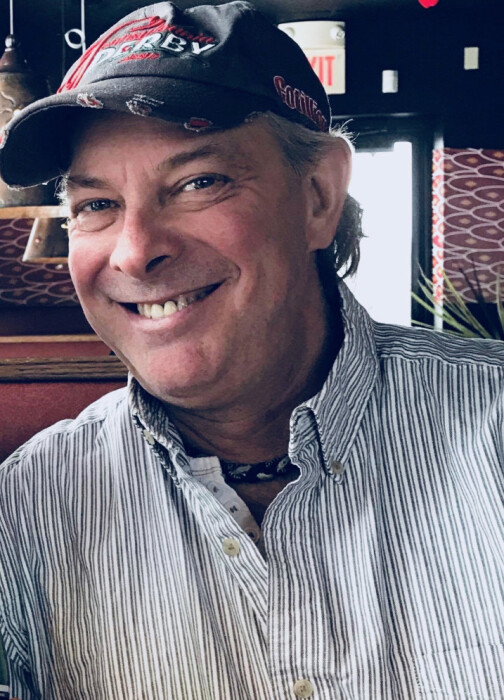 Our brother in faith, Russell Mark "Russ" Miller, 55, of Robesonia, a member of St. Paul's United Church of Christ in Robesonia, passed away Thursday, August 6, 2020, of natural causes in The Reading Hospital and Medical Center.
Russ was the husband of Gimina (nee' Gabriel) Miller.
Born March 16, 1965, in West Reading, he was a son of the late
Curtis H. "Guss" Miller & Eleanor R. (nee' Wagner) Miller.
Russ worked as a cabinet installer for Kountry Kraft, Newmanstown, for the last 16 years. He was an avid bowler, having bowled several 300 games; and was a member of the Tile Industry Local # 4. He was a huge Kiss and Judas Priest fan, and loved going to Las Vegas with his cousin Michael.
In addition to his wife, he is survived by his step daughter: Almirah "Mirah" Gabriel; his siblings: Gordon D. Miller, husband of Megan Miller, Robesonia; & Dennis P. Miller, husband of Dawn Miller, Robesonia; his niece, Cheyenne N. Miller; & nephew, Hunter P. Miller.
Services will be held Tuesday, August 11, 2020, at 11:00am at the Cole Funeral Home & Cremation Center, 402 East Penn Ave., Robesonia, with Pastor Wayne Rissmiller, officiating. Burial in Heidelberg Cemetery will be private. Relatives and friends may call Tuesday from 9:00am until time of service at the funeral home. Casual/Concert/Cowboys attire requested. Contributions may be made to Calvary Bible Fellowship Church, 4891 Penn Ave., Sinking Spring, PA 19608 (Gimina's church). To send flowers to the family or plant a tree in memory of Russell "Russ" Mark Miller, please visit the funeral home's floral store at www.colefh.com.
Prayers of Remembrance will be held for Russ during the 9:30am Worship Service at St. Paul's UCC in Robesonia on Sunday, August 16, 2020, which you can participate through via Live Stream, Phone Stream, & Zoom Worship (due to COVID-19, there is no in-person Sunday worship in the sanctuary during the month of August).
Online condolences may be made at www.colefh.com.
COVID-19 Precautions:
The viewing and funeral service on August 11 will be indoors. If attending, please wear a face mask. So that you may know what to expect before arriving and discern if attending in-person is appropriate for you, and not encounter a situation that leads you to be uncomfortable or unsafe, the funeral home has informed us in advance: they are encouraging attendees to wear face masks, but they are not requiring people to do so. They are not requiring social distancing, their seating will be close together (and not set up for social distancing), they are not limiting the number of attendees present, and they plan to have seating for at least 64 people in the room (which is near their maximum seating capacity) in order to allow for more people to participate.
Dates & Times:

Visitation: Tuesday, August 11, 2020 from 9:00am-11:00am
at Cole Funeral Home, Robesonia
Funeral Service: Tuesday, August 11, 2020 at 11:00am
at Cole Funeral Home, Robesonia
Burial: Private
at the Heidelberg Cemetery, Robesonia
Prayers of Remembrance: Sunday, August 16, 2020 during the 9:30am Worship Service,
at St. Paul's UCC, Robesonia by Live Stream, Phone Stream, & Zoom Worship