In Loving Memory of
The Rev. Thomas C. Leinbach
December 31, 1837 -- May 1, 1909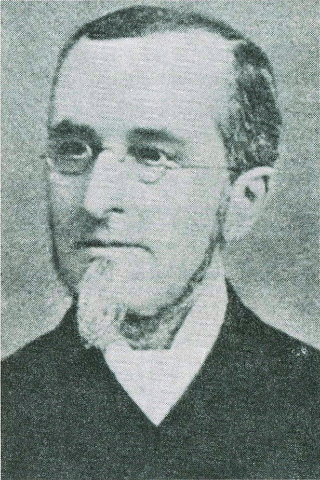 The Rev. Thomas C. Leinbach was the founding pastor of St. Daniel's Reformed Church of Robesonia, which would later merge with St. Paul's Reformed Church of Robesonia to become one congregation. He was the first pastor of that newly merged congregation. His second son, the Rev. Edwin S. Leinbach became his Associate Pastor, and then became the second pastor of St. Paul's when Thomas Leinbach died.
Rev. Thomas Calvin Leinbach, A. M., son of the Rev. Thomas H. and Elizabeth (Seibert) Leinbach, was born in the Tulpehocken parsonage, Jackson township, Lebanon county, Pa., December 31, 1837. He was one of three brothers to enter the ministry from that home, the other two being the late Rev. Dr. Aaron S. Leinbach (1846) and the Rev. Samuel A. Leinbach (1864), of Reading, Pa.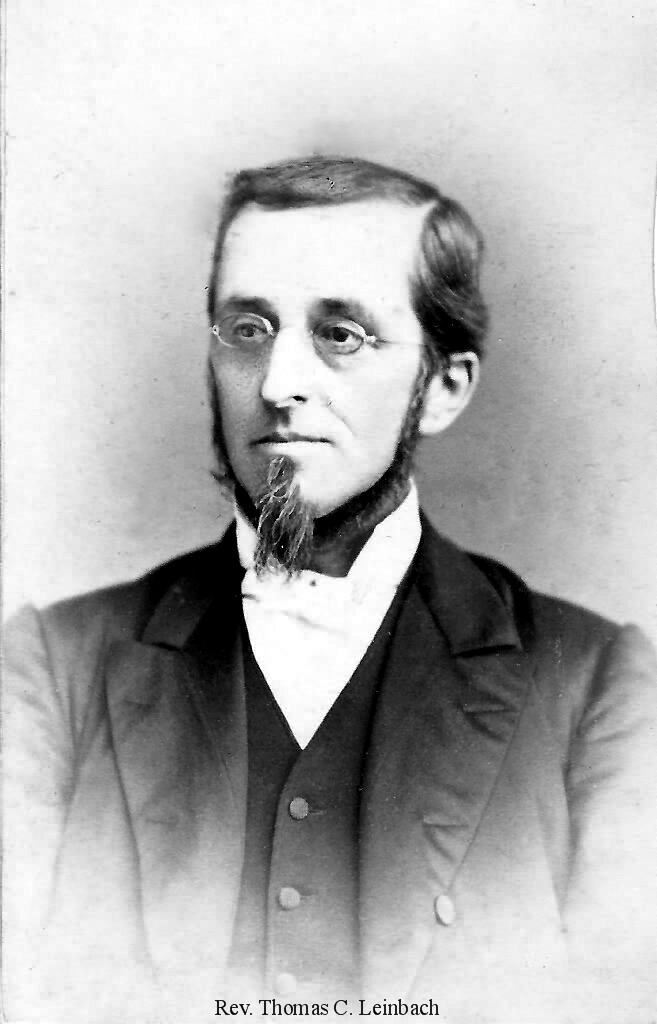 Mr. Leinbach attended the public schools and prepared for college at the Myerstown (Pa.) Academy, entering the Freshman class of Franklin and Marshall in 1854 and graduating in 1858. He was an active member of the Goethean Literary Society. In 1862 he received the degree of A. M., " in course."
After his graduation he entered the Theological Seminary of the Reformed Church at Mercersburg, Pa., from which he graduated in 1860. In the spring of this year he was licensed and ordained by Lebanon Classis at Orwigsburg, Pa. During his theological course, and for some months after his graduation, he assisted his father in the ministry at Schaefferstown, Newmanstown and other places in Lebanon county, and also supplied Reamstown and Swamp congregations in Lancaster county.
On Christmas, 1860, he began his pastorate at North Heidelberg church, in Berks county, and on March 1, 1861, he began at the Bernville church. This charge, known as the Bernville charge, was the only charge he held in his ministry of fifty years. A few changes in the composition of the charge took place, but for many years it consisted of six congregations, as follows: North Heidelberg; St. Thomas', Bernville; St. John's, Host; Christ, Jefferson; Zion's, Strausstown, and St. Paul's, Robesonia.
His work in this charge involved drives ofttimes of forty or fifty miles, by night and by day, over the roughest roads in all sorts of weather. When he began his pastorate the German language was used exclusively in all the services. English was gradually introduced, until it predominates in most of the churches. All his congregations were in union churches when he began (often a fertile source for misunderstanding and discouragement), and except Robesonia all remained union churches. Mr. Leinbach continued in the active work of this charge until his last brief illness, conducting his last service at Strausstown on Sunday, April 18, 1909. It was in Strausstown he preached his first sermon, in April, 1859. In July, 1903, his second son, the Rev. Edwin S. Leinbach, became assistant pastor.
The statistics of his pastorate are some indication of the multitude of his labors: baptisms, 6016; weddings, 1835; confirmations, 4076; funerals, 3107; sermons preached, over 10,000. For some years he had the privilege of baptizing children whose grandparents he had also baptized in infancy. To the last he held the affection of his parishioners.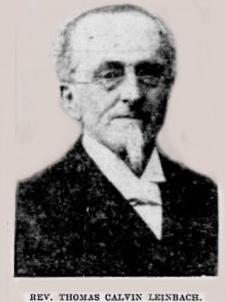 Mr. Leinbach was president of his Qassis a number of times, and he frequently served his Church in a representative capacity. He was universally esteemed as a strong preacher, especially in the German language, an able and successful catechist, and a beloved pastor. Although exceedingly genial and cheerful in temperament, he was always dignified in bearing and wielded an immense influence all through his section. He led more than a score of young men to enter the ministry, and had the joy of living to see three of his own sons actively engaged in the pastorate. Before his sons and the young men of his congregation he always held up the gospel ministry as the highest, holiest and most satisfactory calling among men.
On September 1, 1860, Mr. Leinbach was married to Miss Maria Rebecca Seibert, daughter of the late John and Elizabeth (Seidel) Seibert, of Marion township, Berks county. They established their home in Womelsdorf, which became known throughout the Church for its gracious hospitality. Eleven children were born to them, of whom seven died in childhood. Mr. Leinbach is survived by his widow and four sons: Rev. Paul Seibert Leinbach (1895; Seminary, 1898), of Easton, Pa.; Rev. Edwin Samuel Leinbach (1898 n.; Seminary, 1903), of Womelsdorf; Oliver Eugene Leinbach, of Reading, Pa.; and Rev. Elmer Garfield Leinbach (1903; Seminary, 1906), of Schuylkill Haven, Pa.
Mr. Leinbach died of heart trouble, aggravated by pleurisy, at his home in Womelsdorf on May 1, 1909. He was buried in the Tulpehocken cemetery, only a few steps from the house in which he was born. It was estimated that over two thousand persons attended his funeral.
Obituary Record: A Record of the Lives of the Deceased Alumni, Volume 2
By Franklin and Marshall College. Alumni Association
_________________________________________________


Family:
Parents:
Thomas H. Leinbach (1802 - 1864)
Elizabeth Seibert Leinbach (1806 - 1891)

Spouse:
Maria Rebecca Seibert Leinbach (1840 - 1917)

Children:
Mary Elizabeth Leinbach (1863 - 1872)*
Rev. Paul Seibert Leinbach (1895 -)
Rev. Edwin Samuel Leinbach (1898 - )
Oliver Eugene Leinbach
Rev. Elmer Garfield Leinbach (1903 - )

Siblings:
Aaron Seibert Leinbach (1825 - 1896)*
Elvina M Leinbach Reber (1829 - 1901)*
Elizabeth Cathrine Leinbach (1831 - 1834)*
Isabella Henrietta Leinbach (1833 - 1834)*
Sarah Magdalene Leinbach Urich (1834 - 1882)*
Emma Leinbach Loose (1835 - 1902)*
Thomas Calvin Leinbach (1837 - 1909)
Charles Hiram Leinbach (1840 - 1901)*
John Leinbach (1843 - 1843)*
Samuel Augustus Leinbach (1844 - 1922)*
Clara Ann Leinbach Dundore (1846 - 1901)*

*Calculated relationship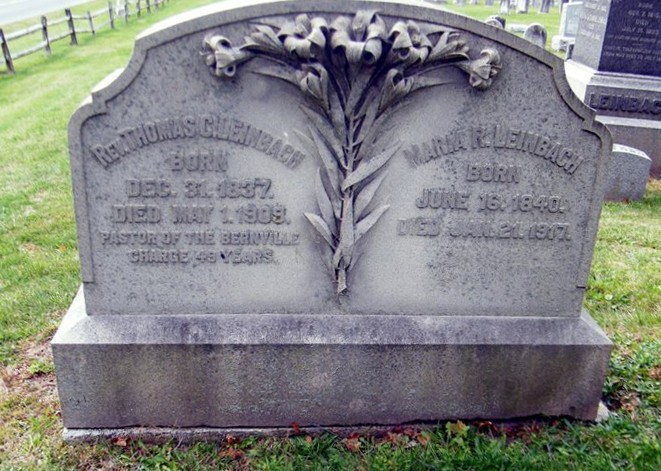 Burial: Tulpehocken Trinity UCC Cemetery; Millardsville, Lebanon County, PA