In Loving Memory of
Arlene S. (Leininger) Miller
September 7, 1917 -- November 28, 2014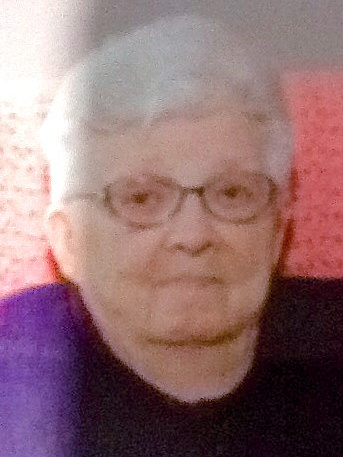 Our sister in faith, Arlene S. (Leininger) Miller, age 97, a member of St. Paul's UCC, Robesonia, formerly of Sinking Spring, passed away on Friday, November 28, 2014 at Stone Ridge Towne Center, Myerstown. She was a lifelong member of St. Paul's UCC, Robesonia.
Arlene was the wife of the late Eddie Franklin Miller, who died on December 25, 1984. They were married in Lebanon County on May 30, 1936. His parents were the late Robert F. Miller and Emma R. (Schware) Miller.
Born in Robesonia, she was a daughter of the late Cyrus J. Leininger and Katie A. (Stamm) Leininger.
She retired in 1958 after many years from Binner's Shirt Factory, Schaefferstown, having previously worked for Shirt Factory, Newmanstown.
She is survived by a daughter-in-law, Jean L. Miller, Sinking Spring; a grandson, Scott J. Miller husband of Debra; a great granddaughter, Danielle R. Bowers; and a great great granddaughter, Taylor R. Bowers. She is also survived by a cousin, Helen Risser. She was preceded in death by two sons, Roger L. Miller (August 5, 1940 - August 10, 2011) and Denton Miller (d. 1937).
Services will be held at 10:30AM, Wednesday, December 3rd, at Lamm & Witman Funeral Home, 243 W. Penn Ave., Wernersville, PA 19565 (610-678-3461), with her pastor, the Rev. Dr. Benjamin Motz officiating. Family and friends are invited to call from 10:00AM-10:30AM, Wednesday, at the funeral home. Burial will be in Heidelberg Cemetery, Robesonia.
Online condolences may be made at www.lammandwitman.com.
Dates & Times:

Viewing & Visitation: Wednesday, December 3 from 10:00-10:30 a.m.,
at Lamm & Witman Funeral Home
Funeral: Wednesday, December 3 at 10:30 a.m.,
at Lamm & Witman Funeral Home
Internment: Wednesday, December 3 following the Funeral Service,
at the Heidelberg Cemetery, Robesonia
Prayers of Remembrance: Sunday, December 7 during the 10:30 a.m. Worship Serivce,
at St. Paul's UCC, Robesonia