In Loving Memory of
Sarah A. (Leiss) Morris-Starr

December 17, 1927 -- June 11, 2021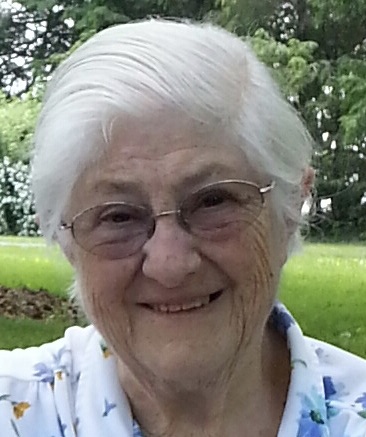 Sarah A. Morris-Starr, 93, formerly of Robesonia, passed away on Friday, June 11, 2021, at StoneRidge Poplar Run in Myerstown.

Her first husband, Charles E. Morris died in 1960 and her second husband, Walter T. Starr died in 2009.

Born in Newmanstown on December 17, 1927 a daughter of the late Robert I. and Helen R. (Mattis) Leiss.

She was a 1945 graduate of Womelsdorf High School.

Sarah was employed at the former Linden Manufacturing in Womelsdorf.

She was a member of St. Paul's U.C.C., Robesonia where she was past President of the Church Women's group, and was also past President of the Robesonia Women's Club. Sarah loved to dance and enjoyed traveling with her travel group.

She is survived by a son, Richard D.A. Morris husband of Fran Battista, of Hershey; a step-daughter, Judy M. widow of David Mohn; three grandchildren, Thomas, Charles, and Daniel; eight great grandchildren; twelve great great grandchildren; and several nieces and nephews.

She was also predeceased by a son, Robert R.C. Morris on February 16, 2019; and a brother, Charles R. Leiss.

A Memorial Service will be held on Saturday, June 19, 2021 at 11:00am at Mull Funeral Home & Cremation Services, Womelsdorf.

The family will receive friends on Saturday from 10:00 to 11:00am at the Funeral Home.
In lieu of flowers, memorial donations may be made to St. Paul's U.C.C., 301 W. Penn Ave., Robesonia, PA 19551.
To send flowers to the family or plant a tree in memory of Sarah A (Leiss) Morris Starr, please visit our floral store.
Saturday, June 19, 2021 from 10:00am to 11:00am
Mull Funeral Home & Cremation Services
27 East High Street
Womelsdorf, PA 19567
Saturday, June 19, 2021 at 11:00am
Mull Funeral Home & Cremation Services
27 East High Street
Womelsdorf, PA 19567
Prayers of Remembrance:
Sunday, July 4, 2021 during the 9:30am Live Stream Worship Service,
at St. Paul's United Church of Christ in Robesonia