In Loving Memory of
Scott R. Hiester
March 23, 1960 -- September 3, 1987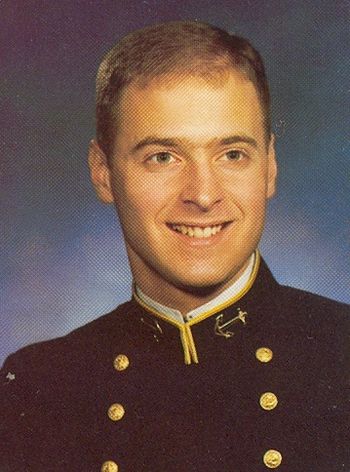 Our brother in faith, Scott R. Hiester, 27, of Robesonia, a member of St. Paul's United Church of Christ in Robesonia, was killed in a night training U.S. Marine helicopter crash.
He is survived by his wife, Cathy A. (Bright) Hiester; his parents,
Richard R. Hiester
& Susan R. (Spangler) Hiester of Robesonia, PA; and his brother, Stephen Hiester of Robesonia, PA.
Every company has its resident "grunt" and 36th has Scott. Arriving at USNA from Robesonia, PA via a short tour at Villanova University, this mid decided early he'd stick it out and quickly spread out his roots in chapel choir, Glee club, and Semper Fidelis society. Not content with just token participation, he involved himself further as company guidon, president of chapel choir, and 2nd. Set Mike company commander. But life was not all play and no work for him. Not being able to totally forsake the Navy, Scott became a Naval Architect and disappeared into Rickover to play with his toy boat in tow tank and listen to Dr. B's stories. But he did surface each weekend to enjoy time out with the Glee club on tour, road trips in "das boot," or maybe even to crack a book.
Scott's fond memories include New England tour, singing at the Inaugural Ball, Marine Corps option cruise to Hawaii, and plebe summer with Mike company. The best memories, though, are those of his friends. From Zog-his roommate for life, through Tim, Kent, R.K., and the boys of 36th., to finally "Mer," the kid from Kansas, Scott's closest memories will forever be of his friends.
Good luck in the corps, buddy, you never lacked a sense of humor or warmth and we in 36th never lacked shoo fly pie or chocolate chip cookies. Tell Mom thanks for the chow! —M.J.T.
Other Information
From The Los Angeles Times on September 10, 1987:
Four Marines killed when their helicopter slammed into a mountain on a night training mission were remembered Wednesday at a crowded memorial service at the Marine Corps Air Station in Tustin.

During the solemn hourlong service, held in a tiny theater on base, those aboard the CH-46E Sea Knight that crashed last Thursday at Camp Pendleton were depicted as simple, small-town men who loved to fly.

Navy chaplain Robert B. Needham told more than 300 family members and friends that the four men were not only "good Marines, but good friends."

Killed instantly in the Sea Knight crash were the pilot, 1st Lt. Chris. R. Toburen, 27, of Pittsburg, Kan.; the co-pilot, 1st Lt. Scott R. Hiester, 27, of Robesonia, Pa.; the crew chief, Lance Cpl. Todd B. Kershner, 20, of Lomax, Ill.; and the observer, 1st Lt. Christopher M. Tanner, 27, of Malvern, Ark.

Stretched behind him on the stage curtain was a huge U.S. flag. The overflow crowd spilled out the theater doors, and dozens of people either stood or sat outside on folding chairs under a canopy. On the steamy, still day, many people fanned themselves with programs or went coatless as they listened to the eulogies on a portable public address system.

…

Hiester shared Tanner's religious faith. He made frequent entries in a "spiritual journal," 1st Lt. Kevin L. Smith said. Hiester also organized weekly Bible readings for base officers. When away from his wife, Cathy, on missions, Hiester often listened to Christian or classical music and wrote letters home.

Neither the Heisters nor the Toburens had children.

Following the service, most family members left were escorted to another part of the base. But Hiester's wife stayed behind, greeting friends with a warm smile and an occasional hug. She chose not to wear black, opting instead for a bright blue sweater vest and matching skirt.

"She wanted this to be an up day, not a sad day," a friend said outside the theater. "She did not want to wear black or look like the typical widow .... She decided life must go on."
From the November 1987 issue of Shipmate:
Capt. Scott R. Hiester USMC was killed on the evening of 3 September 1987 when his CH-46 helicopter crashed in the Case Springs area north of Camp Pendleton airfield in Southern California. He and the other two officers and one enlisted crewman killed in the crash were attached to Marine Aircraft Group 16, 3d Marine Aircraft Wing, MCAS Tustin. A memorial service was held on 9 September at MCAS Tustin.

Born in Pennsylvania, he was appointed to the Naval Academy from his native state and graduated with the Class of 1983. Recently promoted, he was the Squadron Intelligence Officer for HMM-164.

He is survived by his wife, the former Cathy A. Bright; his parents, Mr. and Mrs. Richard R. Hiester of Heidelberg Township, Pennsylvania; and his brother, Stephen Hiester.
From researcher Kathy Franz:
Graduated in 1978 from Conrad Weiser High School. Voted Most Musical. "Fish" Collecting old things . . . lasagne, Baer and Stern . . . Europe . . . Glee Club . . . swimming . . . Aries blue . . . "You fool I" McDonalds . . . hiking . . . Naval Academy or ROTC. BAND; Football 1,2,3,4; Pep 1,2,3,4; Stage 1,2,3,4; State 1,2,3,4; Pit 1,2; May Day 1,2,3; Commencement 1,2,3; Student Conductor 3,4; CHORUS; Glee Club 2,3,4; Choraleers 2,3,4; Winter Track 4; Boy's Tennis 3,4; Student Council 1,2,3,4; Student Council Treasurer 4; Drama 1,2,3,4; Drama President 4; Weicon yearbook 3,4; Weicon Editor 4; Interpreter 1; Class President 1; Jr. County Band & Chorus 1; Sr. County Band & Orchestra ,2,3,4; Sr. County Chorus 2,3; District Band & Orchestra 1,2,3,4; Region Band 2,3,4; East State Orchestra 3; All-State Band 4; Musical 3,4; Drama Play 3,4; Student Recital 1,2,4; Woodwind Quintet (bassoon) 1,4; Drum Major 3,4; Water Survey Group 3,4; Homeroom Officer 1,3,4; Commencement Chorus 2,3,4.
The Tustin News — which is where Marine Corps Air Station El Toro was located — had an interview with Scott about the bagpipes; it ran the same day he was killed.
He is buried in Pennsylvania.
Remembrances
From an email from Jim Loper, USNA '83 and a squadron mate of Scott's:
Scott was a good guy and his faith was important to him and his wife. He was musically inclined and he learned how to play the bagpipes. One of my memories is of him playing the the Marine Corps hymn on his bagpipes for the entire camp at Camp Wilson (29 Palms) during various exercises.