In Loving Memory of
Ricki "Rick" L. Huseman
February 8, 1956 -- July 1, 2018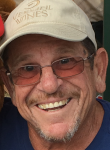 Our brother in faith, Ricki "Rick" L. Huseman, 62, of Robesonia, a member of St. Paul's United Church of Christ in Robesonia, passed away on Sunday, July 1, 2018, at Penn Rittenhouse Hospice surrounded by his beloved family.
Rick was the loving and devoted husband of Anne L. (Oxenreiter) Huseman. They were married May 22, 1976, and shared 42 wonderful years of marriage.
Born in West Reading, he was the son of Warren E. Huseman and the late Faye L. (Bricker) Huseman.
In addition to his wife, survivors include his cherished children, Elizabeth A. Sickler, wife of Andrew J. Sickler, Middletown, and Jennifer L. Hartlieb, wife of Richard J. Hartlieb Jr., Robesonia; and his adored grandson, Grant R. Hartlieb. Also surviving are Rick's siblings: Wendy Melcher, Michael Huseman, Jeffrey Huseman, Lori Price, Sherry Bohn; his in-law siblings and a large extended family. He was predeceased by his brother, Randy Huseman.
Rick was a 1974 graduate of Conrad Weiser Area High School. He was employed by Carpenter Technology Corporation for 35 years, retiring in 2016. He happily enjoyed retirement, spending his time with friends and family, especially his grandson, Grant. He was an avid fisherman and also enjoyed hunting, pickleball, kayaking, biking and traveling. Rick was a dedicated Penn State football fan as well as an enthusiastic supporter of the Indianapolis Colts and the New York Yankees. He was a member of the Car-Tech Trap League, Ducks Unlimited, Lebanon Valley Sportsman Association and Conrad Weiser Football Alumni Association.
Memorial services will be held at Bean Funeral Home, 3825 Penn Ave., Sinking Spring, on Saturday, July 7, 2018, at 11:00 a.m. The family will receive friends and relatives from 9-11:00 a.m. Interment will be private. In lieu of flowers, contributions may be made to either Ducks Unlimited Reading Chapter, 2129 Old Lancaster Pike, Reinholds, PA 17569, or to the Alpha-1 Foundation at alpha1.org/donate.
Dates & Times:

Viewing: Saturday, July 7 from 9:00-11:00am at Bean Funeral Home, Sinking Spring
Funeral Service: Saturday, July 7 at 11:00am at Bean Funeral Home, Sinking Spring
Burial: Private
Prayers of Remembrance: Sunday, July 22 during the 9:25am Worship Serivce,
at St. Paul's UCC, Robesonia